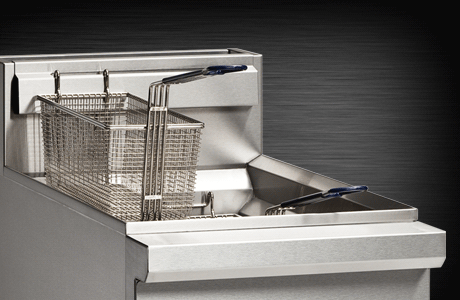 Functional, reliable and more affordable.
01/11/2013
Highlights
The centrepiece, the constant and the workhorse - introducing the all new CF2.

Small kitchens are often dependent on their deep fryers in view of the fact that they undoubtedly serve as the backbone for almost any busy professional kitchen, which is why we've made improvements to the Cobra gas fryer to abide by three simple rules - affordable, functional and reliable.

The all new Cobra CF2 commercial deep fryer is a lot more economical, yet with the same incredible performance and most importantly boasts outstanding longevity with a more durable, reliable design. The CF2 - a 400mm open pan gas fryer with 18 litre capacity and a powerful 90MJ multi-jet target burner for the powerful performance that is maintained and expected within the Cobra range.

Open pan / tank fryers in comparison to tube-style or flat-bottom fryers are the easiest to clean. The Cobra CF2 is an open pan fryer and provides an effective 'cool zone' that delivers longer oil life, high efficiency and no obstruction to the cleaning whereas the tube-style versions have the limitation with the burner tubes permanently fixed within the tank, making it hard to clean.

Like every Cobra product and its modularity, the CF2 does not require assembly unlike many other typical deep fryers in the market place. The ease of use doesn't stop there, with the stainless steel pan and external finish. That said, it's really no surprise that the fryer can take the knocks and just keep delivering.