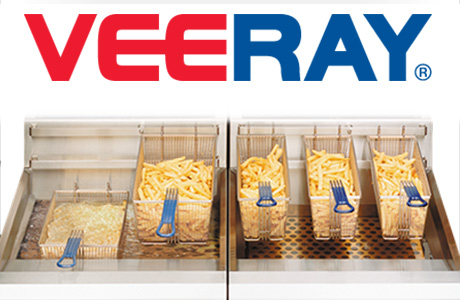 Blue Seal Vee Ray Gas Fryers
04/04/2013
Highlights

Blue Seal has long been recognised for the quality and performance of its Fryers. The Blue Seal Evolution Series takes this a stage further with a sleeker, more streamlined Fryer range – available in 450 or 600mm single or twin pan versions. Gas units feature Blue Seal's unique Vee Ray technology, incorporating patented infrared burners for industry leading frying output and recovery.


Gentler on the frying medium
The unique Blue Seal Vee Ray burner burns with an intense even heat with no flame impinging directly on the tank side, resulting in a more even spread of heat through the tank surface. This evenness is gentler on the frying medium and results in longer oil life when compared to fryers employing conventional gas burners.
Patented Infrared Burners
Developed over a number of years, the patented Vee Ray burner system offers optimum operating efficiency with rapid recovery.
Lower flue or exhaust air temperatures
More heat energy produced by the burners is used to cook food
Less gas is used to cook any given amount of fried food
Lower production cost per kilo
Easy to clean
The open tank design of both the single and twin tank Vee Ray fryers makes cleaning simple and easy. There are no inaccessible corners or tubes to make cleaning difficult. In addition all Blue Seal fryer tanks are constructed from stainless steel, giving them a longer operational life.
All fryers are available with either mechanical or digital controls. Digital control models offer precise temperature control, three product timers, as well as time and temperature digital display. Twin pan model have independent digital controls for each pan and six product timers.
Frying without filtering or infrequent filtering is an expensive mistake. Blue Seal has a range of Filtamax filtration system to complement the Blue Seal Vee Ray Gas Fryer range. For more information, please click here.
Click here
to view our full range of fryers.